Editorial: Democracies Must Have Cheaper Energy, or Autocracies Will  Dominate Global Economy; Energy to Enhance Peace and Reduce Inflation & Climate – US-India SCEP Sec. Jennifer Granholm & Minister Hardeep Singh Puri
October 9, 2022 – Part 2 – India's post-Washington DC interactions press note, given that what India buys from Russia in three months is about what the European Union buys in an afternoon.
On February 4, 2022 in Beijing, President Putin and President Xi Jinping entered into a world changing "No Limits" partnership with "no forbidden zones." Russia's proxy war against us and our NATO allies started on February 24th. That President Putin believes he has exhibited patience of a Saint over twenty years to restructure a new paradigm – "security for all" – is relevant to his partial motive and to reassure us that he is calibrated, no matter his military's continuing debacle, on a near daily basis, in Ukraine due to President Volodymyr Zelensky's unexpected Churchillian "line in the rock": "I don't need a ride; I need ammunition." That every Ukranian has become "brave Horatius" is why Ukraine is now Russia's Vietnam on steroids. A headache that will remain an un-needed migraine for decades if a just and fair Peace is not negotiated soon.
In mid-September in Samarkand during SCO Summit, both President Xi and Prime Minister Narendra Modi spoke publicly and privately got commitment from President Putin that was salutary. After all, both autocracies and democracies must protect their economies from hyperinflation in food and energy if any government is to survive – a warning our Abraham Lincoln made clear to all governments in his Gettysburg Address.
In that context, China first, Hungary second, and India after-the-War secured cheaper energy from Russia. Autocracy and Democracies unite for cheaper energy. Our President Biden has done a  yeoman's job to protect everyday hardworking Americans from suffering the boomerang effect of our Russia-Sanctions after February 24th Invasion. In fact, our Midterm Elections are affected by the economy and Covid- and war-based resulting recession.
We look forward to Minister Puri's continued engagement with our government and private sector to enhance United States becoming an even greater Energy Partner with India, beyond the already heady $20 billion buy of American Energy by India.
We – the United States – need to do more with India so as to offset the No Limits Partnership between Russia and China, while welcoming both China and India (along with proven "Black Sea Grain" efforts by Turkey's President Erdogan & SG Guterres) to help bring this War to an end and prevent Armageddon, a closer possibility given Russian conventional war ineptitude, while restoring to Ukraine her sovereignty and territorial integrity. It can be done. I've proposed a 6 Point Peace Plan.
So, the indomitable PM Modi's get-it-done Minister Hardeep Singh Puri must be welcomed by every American such that India feels in fact and deed to be our American "No Limits" Partner, and then, the Democracies win!
Ravi Batra, Co-publisher & Editor-in-Chief
Herein below, then, is India's post-Washington DC interactions press note:
The Honorable Shri Hardeep Singh Puri, Minister of Petroleum and Natural Gas and Minister of Housing and Urban Affairs arrived in the United States with an ambitious agenda and vision for enhancing the U.S.-India Strategic Clean Energy Partnership, which the Minister co-leads with the U.S. Secretary of Energy Jennifer Granholm. The Minister's visit included an expanded set of engagements including meeting with the private sector leadership with the U.S. Chamber of Commerce's U.S.-India Business Council and Global Energy Institute, as well as meeting with stakeholders at the World Bank, think tanks and research institutions, and members of the Indian diaspora and community.
Meeting with the World Bank on Climate Resilient Infrastructure
On October 6, The Honorable Minister and senior members of the delegation from his portfolio Ministries met with the World Bank focused on how India is approaching and focusing on long-term resilience of infrastructure. Given his role as the Minister of Housing and Urban Affairs, the Minister discussed investments that can be made in to this space with a perspective of supporting local communities in ensuring safety and sustainability, as well as inclusion of critical elements of the renewables sector that can be incorporated within home systems, government building and commercial infrastructure that can be climate resilient. The Minister expanded the discussion by focusing on the rapid growth of urban development across the country.
Reception at India House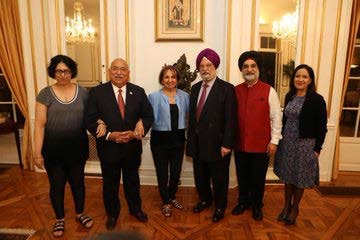 On October 6, the Honorable Indian Ambassador to the United States Taranjit Singh Sandhu hosted a reception in honor of Honorable Minister Puri's visit to the United States. The reception, hosted at India House – the official residence of the Ambassador – was widely attended by members of the U.S. government including USTDA Deputy Director and Chief Operating Officer Vinay Thummalapally, U.S Department of Energy's Assistant Secretary for International Affairs Andrew Light and former and current representatives from the U.S. Department of State and other U.S. government agencies.
The engagement brought together a wide stakeholder community including think tanks, academia, media, and the Indian diaspora for an evening focused on the robust partnership that the United States and India. Having spent a career spanning 40 years, the Honorable Minister recounted the long pathway of U.S.-India relations that he has seen
cultivated from a $4 billion bilateral trade relationship in the 1980s to a $160 billion bilateral trade relationship today. He noted the important role Ambassador Taranjit Singh Sandhu has played in leading and advancing the bilateral relationship between the two countries. The Honorable Minister actively engaged with the diaspora community connecting with long-term advocates for the U.S.-India strategic, economic and people-to-people relationship.
U.S.-India Strategic Clean Energy Partnership Meetings
On October 7, the Honorable Minister and U.S. Secretary of Energy Jennifer Granholm met for the second edition of the U.S.-India Strategic Clean Energy Partnership (SCEP) that was relaunched in September 2021. The bilateral energy dialogue celebrates and follows up on the U.S.-India Climate and Clean Energy Agenda 2030 partnership announced by Prime Minister Narendra Modi and U.S. President Joe Biden. The two co-leads discussed the substantial progress being made under the five pillars of the SCEP. The five pillars include power and energy efficiency, renewable energy, responsible oil and gas, sustainable growth and emerging fuels and technology.
An increased priority was given to potential collaboration around the development and deployment and joint research on green hydrogen. Both sides also launched the "U.S.-India Energy Storage Taskforce" which will drive expanded efforts to work together around stable energy supply and storage technology developments.  The joint statement released at the close of the meeting notes that the United States and India "share a common vision to deploy clean energy at scale during this critical decade to reduce emissions and achieve climate mitigation goals."
Press Conference
The Honorable Minister Hardeep Singh Puri also hosted a press conference following the U.S.-India Strategic Clean Energy Partnership. He reviewed the positive and constructive dialogue he had with Secretary Granholm and marked the progress made in the five pillars of the bilateral discussions. SCEP was also attended by an accompanying delegation of officials from the Ministry of Petroleum and Natural Gas, Ministry of Power, Minister of New and Renewable Energy, Department of Science and Technology, and NITI Aayog. The press engagement was an opportunity to highlight the areas that were highlighted in the areas of expanded interest noted in the Fact Sheet of the SCEP.
India's Minister of Petroleum and Natural Gas Hardeep Singh Puri discusses U.S.-India Energy cooperation with Industry Executives at the U.S. Chamber of Commerce
Following the bilateral energy ministerial with U.S. Secretary of Energy Jennifer Granholm, India's Hon'ble Minister of Petroleum and Natural Gas Hardeep Singh Puri joined an Executive Roundtable at the U.S. Chamber of Commerce building in Washington D.C. On October 7. The roundtable was hosted by the U.S.-India Business Council (USIBC) and the Global Energy Institute (GEI) at the U.S. Chamber of Commerce.
Government officials joining alongside Minister Puri included his Excellency Taranjit Sandhu, Indian Ambassador to the United States, Andrew Light, Assistant Secretary for International Affairs, U.S. Department of Energy, and Geoffrey Pyatt, Assistant Secretary, Bureau of Energy Resources, U.S. Department of State. Assistant Secretary Light and Pyatt discussed growing energy trade and ongoing energy cooperation under the Five U.S.-India Strategic Clean Energy Partnership (SCEP) Pillars: (1) Power and Energy Efficiency; (2); Responsible Oil and Gas; (3) Renewable Energy; (4) Sustainable Growth and (5) Emerging Fuels. Industry attendees included representatives of oil and gas, solar power, ethanol, transportation & alternative fuels, nuclear power, and manufacturing sectors.
The roundtable was opened by Nisha Biswal, Senior Vice President for South Asia and International Strategy at the U.S. Chamber of Commerce and former President of USIBC, who emphasized the business-to-government forum as an important complement to the government-to-government U.S.-India Strategic Clean Partnership (SCEP) dialogue chaired by Minister Puri and Secretary Granholm. Relaunched in 2021, the SCEP focuses on energy security, comprehensive energy cooperation across different workstreams on power, energy efficiency, oil and gas, sustainable growth and emerging fuels, as well clean energy and decarbonization.
Marty Durbin, President of the Chamber's Global Energy Institute, highlighted the importance of energy security in his remarks, and asserted that energy security and energy transition are not contradictory goals. Mr. Durbin emphasized the role of less carbon intensive energy sources like natural gas in bridging the gap between energy security and transition, and the central role of the private sector in meeting global energy challenges, which have been exacerbated by Russia's invasion of Ukraine.
In spite of the current turbulence in global oil markets, Minister Puri affirmed India's commitment to its clean energy targets. In his address to the roundtable, Minister Puri stated: "I come here with one message: no matter what the uncertainty in international markets, it's not going to result in India diminishing its commitment to the energy transition."
Minister Puri encouraged global energy firms to expand exploration and production in India, pointing to the government's recent moves to remove restrictions on the sale of crude in the domestic market. Since October 1st, India began allowing oil field operators to sell locally produced crude in the domestic market without restrictions. Previously, Exploration and Productions (E&P) companies had to sell crude to a government intermediary. Minister Puri signaled that the government is committed to pricing freedom for E&P firms while addressing the needs of availability and affordability. Additionally highlighted was India's leadership in developing green hydrogen, alternative fuel, and energy storage technologies.
"No two countries have a greater shared responsibility to develop clean energy technology that can advance an affordable, reliable, net-zero energy future. The Global Energy Institute and the U.S.-India Business Council are ready to work with industry to provide an 'all of the above' comprehensive energy partnership and advance the climate and energy security goals of the U.S. and Indian governments," said Nisha Biswal.